The Wellness Generation: Will Gen Z Change the Food and Beverage Industry?
With vaccination rates approaching 40% among adults in the United States, many consumers are beginning to brave the world outside their front door for excursions and activities that go far beyond grocery trips. Top of the list for many: a long-overdue return to socializing with friends and family, with the prevailing wisdom at the moment predicting a Roaring 20s-style bacchanal in the months and years ahead.
However, after a long year of lockdowns, forced isolation, and perspective-shifting, it remains to be seen how consumer habits may have changed when it comes to socializing–a theme that will be on the minds of anyone in the food and beverage industries. 
Recent data from What If Media Group, a performance marketing company, found that 58.8% of consumers reported consuming less alcohol throughout the pandemic. While that trend may well have been driven by the lack of social situations, further evidence from the What If Media Group survey indicates that shifting consumer tastes for healthier options may also be at play–particularly among younger consumers.
For example, 62.2% of respondents in the key 20-29 age group reported having consumed less alcohol throughout the pandemic than prior to it–a significantly higher proportion than any of the next three-decade age ranges: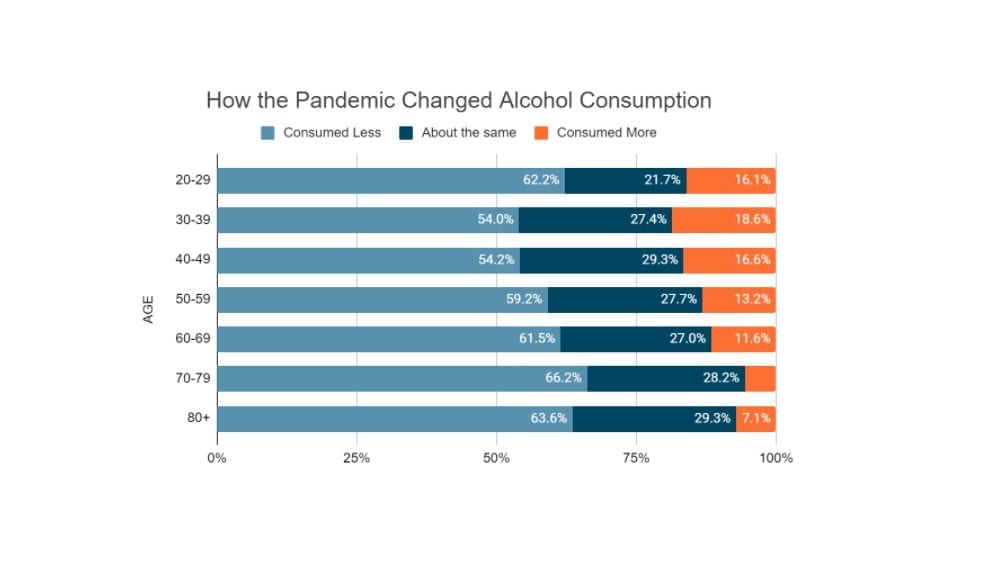 While this, again, could simply be evidence of a drop in purchases made in bars and restaurants, this group is also more likely than most to be open to healthier alcohol options, including drinks with fewer calories, carbs, and even lower or no alcohol.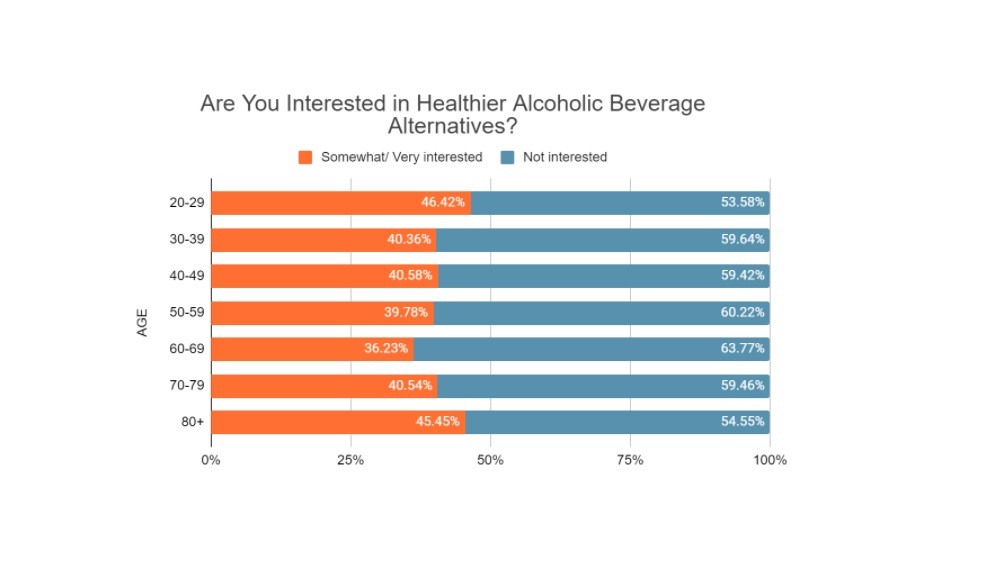 Whether or not these trends will hold as Gen Z ages and grows in spending power, there is a clear opportunity for marketers and advertisers to tap into health-related concerns within this group. Despite this, 53.8% of those aged between 20 and 29 report never or rarely having seen either online or TV ads for new low or non-alcoholic adult beverages–a clear gap in the market when it comes to matching buyer intent. 
Additionally, age seems to be the best predictor of these preferences: while men are significantly more likely than women to make a new year's resolution to drink less alcohol (45.3% compared to 37.9%), approximately 60% of both men and women have no interest in trying healthier alternatives.
This pattern also holds true when it comes to eating throughout the pandemic: while 28.1% of all consumers reported that staying at home had led to them eating more healthily, younger consumers were by far the largest cohort to do so: Some 35.7% of those 19 and under-reported dietary improvements, along with 28.5% of 20-29-year-olds. That compares favorably to the next three age decades, with only those over 60 improving their diet at a higher rate than the youngest respondents.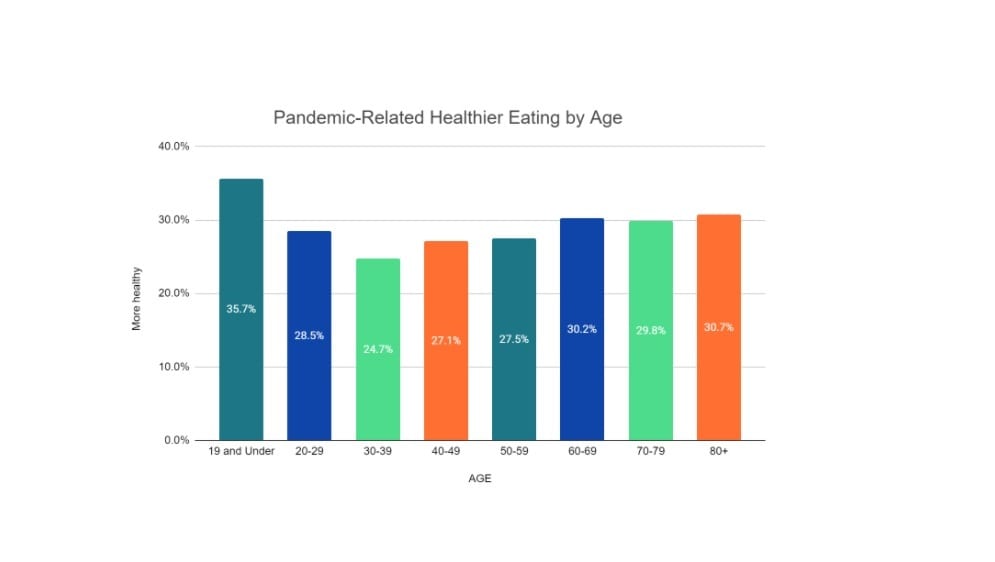 Once again, at least two possibilities present themselves. It is, of course, entirely possible that younger respondents simply ate more healthily because less healthy options were unavailable to them throughout the pandemic. However, it is more likely that these findings represent the continuation of a trend of millennials and Gen Z consumers placing a premium on fresh foods, dining as an experience, and health and wellness–a trend that is all the more remarkable for having persisted through a period when conventional wisdom may have assumed that consumers would have resorted to less healthy habits as a means of coping with stress. 
"Faced with the greatest health crisis in over a century, most Americans took their time at home as an opportunity not just to "mask up" — but to adopt healthier habits as a whole," says Jordan Cohen, Chief Marketing Officer at What If Media Group. "Despite the widely reported spike in alcohol sales at the start of the pandemic, most consumers — including those young party animals — actually reported drinking less or looking at new lower alcohol alternatives; and people across generations say they've been eating healthier and making better decisions at the supermarket. With restrictions loosening, and people beginning to return to bars and restaurants, whether these health-conscious trends continue into the "post-pandemic world" will be something for brands to pay close attention to."
Download our new research report, "The Pandemic Shopper" for even more in-depth CPG insights.
Methodology
This research report is based on two surveys conducted online within the United States by What If Media Group in February 2021. A survey related to grocery retail spending was conducted from February 11 through February 19, 2021, among 38,096 adults, and a survey on drugstore and health and wellness product spending was conducted from February 24 through February 25, 2021. Among 10,076 adults, respondents were randomly selected and the findings are at a 99% confidence level with a margin of error +/- 2.5%. What If Media Group's proprietary ad-serving technology includes a real-time survey module that was used to facilitate the data collection for this study. Data was weighted to the 2010 US Census.
About What If Media Group
Founded in 2012, What If Media Group is an award-winning performance marketing company that enables the world's leading brands to acquire valuable new customers at scale. By leveraging data-driven engagement and re-engagement strategies across multiple proprietary marketing channels and sophisticated targeting technology, and utilizing insights based on millions of consumer ad interactions each day, What If Media Group delivers the most cost-effective and highest performing marketing campaigns for its clients.