THE STATE OF THE STATES: WHAT MARKETERS CAN LEARN FROM REGIONAL CONSUMER RESOLUTION DATA
With thoughts turning towards 2021, a recent What If Media Group survey recently found that the top New Year's resolutions across the United States for 2021 are to spend more time with family and friends, and to exercise more and/or lose weight. But while those resolutions are both common and understandable after a year in which a global pandemic has kept loved ones apart and locked down fitness centers, there are significant regional differences to how those resolution intentions are distributed.
For example, the states where people were more likely to name exercise or weight loss as their top goal for 2021 tended to be clustered in the North East and New England, with states in those regions claiming 8 of the top 10 spots: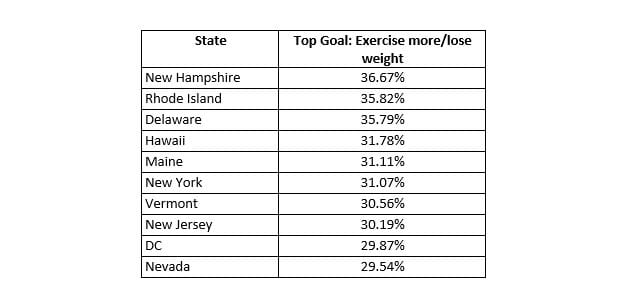 However, people in the Midwest and South were more likely to name spending time with family and friends as their top goal for 2021: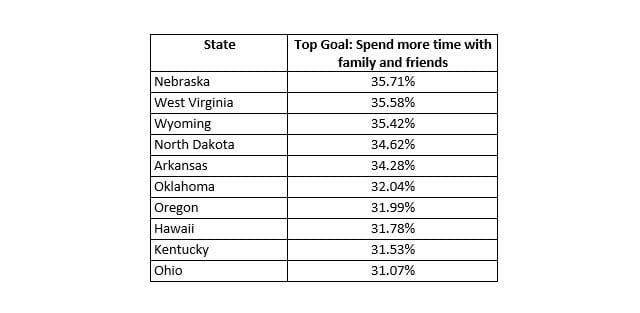 Seeing Loved Ones = Good News for the Travel Industry
While travel is not a top priority resolution for most—just 12.8% cited is as their main goal for the year—many Americans are planning to do more traveling in 2021 than in the past year.
With vaccines already being distributed nationwide, the goal of seeing loved ones in 2021 gets closer for many every day, along with the prospect of resuming business travel—all of which spells a potential surge in demand for airlines, rental cares, hotels and more. However, travel intent is not evenly distributed geographically to one area. According to data from What If Media, a performance marketing company, these are the top 10 states where people are intending to travel more in 2021: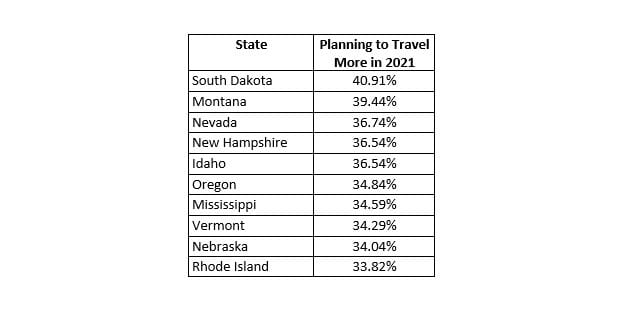 Fitness as a Goal, Not a Line-Item
While 45% of Americans plan to spend more time on fitness in the new year, the vast majority are not planning to spend more money on it, with projected spending on everything from gym memberships to home fitness equipment at lower levels than in 2020. In terms of the states where people are not planning to spend more on fitness, the top 10 are as follows: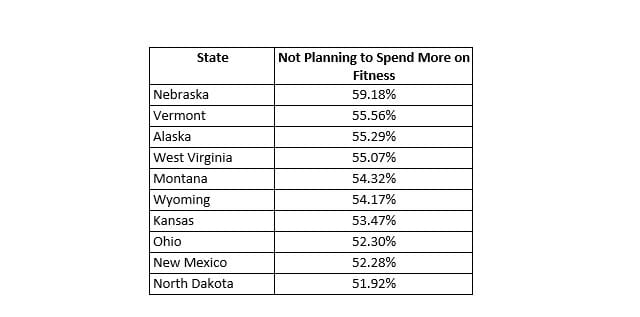 However, people across the country are planning on spending more time on their fitness and weight loss goals—even if it means doing activities that don't cost anything. When it comes to the intent to active for longer, there is even some crossover with states where people plan to spend the same or less money on their fitness, with Alaska making the top 10 for both lists: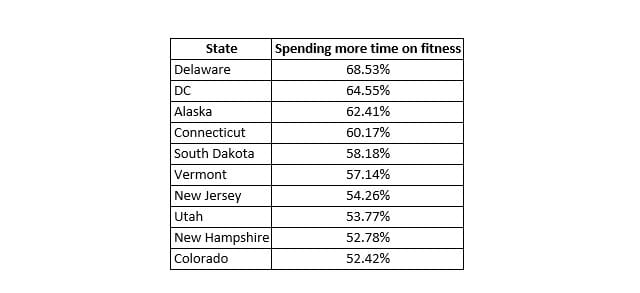 Results like these, from the What If Media Group survey, underline the importance of understanding regional differences—particularly in sectors where relatively granular insights can play an important role in informing messaging and specific elements within a brand's marketing mix.
For example, in categories such as groceries and home improvements, there are again some significant regional differences in terms of expectations of spending—insights that are useful not only for marketers and forecasters in those sectors, but beyond.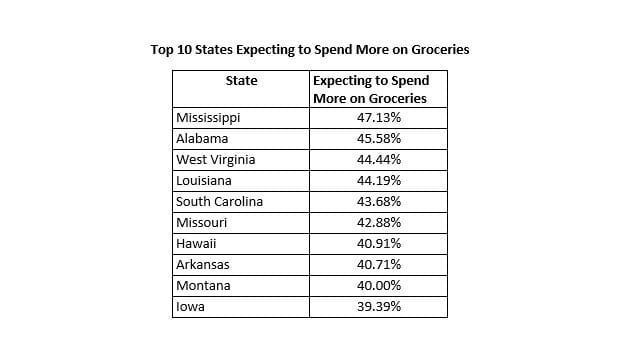 Many of the states where people are most likely to be expecting to spend more on groceries are across the South. While that is likely a sign that people are planning on still being home for much of the year, it's also an indication that tighter economic times may be eating into household incomes across the region, leading to cutbacks on dining out.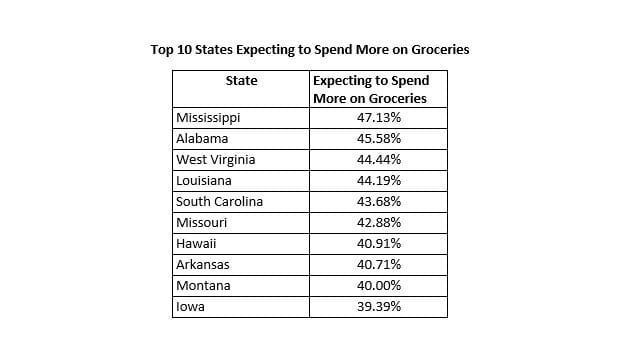 Likewise, the high percentage of people planning to spend more on home improvement in 2021—a list again dominated by southern states—could well be an indicator that people in those regions are expecting to be home more often, and are seeking to make improvements as a result. However, the regional nature of the list-with three Gulf states in the top four—may also be a reflection of the need to make repairs in the aftermath of a bad hurricane season.
Whatever the reason, with 2021 around the corner, finding better data and insights to leverage should be on every marketer's list of resolutions.
Methodology
The What If Media Group survey was conducted online within the United States from December 7 – 8, 2020, among 18,048 adults. Respondents were randomly selected and the findings are at a 99% confidence level with a margin of error +/- 2.5%. What If Media Group's proprietary ad-serving technology includes a real-time survey module that was used to facilitate the data collection for this study. Data was weighted to the 2010 US Census.
About What If Media Group
Founded in 2012, What If Media Group is an award-winning performance marketing company that enables the world's leading brands to acquire valuable new customers at scale. By leveraging data-driven engagement and re-engagement strategies across multiple proprietary marketing channels and sophisticated targeting technology, and utilizing insights based on millions of consumer ad interactions each day, What If Media Group delivers the most cost-effective and highest performing marketing campaigns for its clients. Headquartered in Fort Lee, New Jersey, What If Media Group is a recipient of Crain's 2020 Fast 50 and is a member of the Inc 5000 list of the fastest-growing private companies in America.