The Pandemic Has Turned Our Lives Upside Down – But Has It Infected Consumer Spending Habits?
Just over a year ago, California became the first state to implement a stay-at-home order in response to the COVID-19 pandemic–a move that signified the beginning of a rapid slowdown in economic activity, and a major shift in consumer spending patterns.
One year on, with vaccination rates climbing and many states relaxing business restrictions altogether, many retailers are asking a variation of the following question: to what extent have the behaviors and spending patterns developed throughout the pandemic become permanently ingrained? And will consumers ever fully revert to their pre-pandemic ways?
Accelerating Trends
New data from What If Media Group indicates that the answers to the above are both simple and complex: it depends. And not just on one or two variables: consumer attitudes touch everything from their location and income level to the product categories themselves. And, rather than creating new trends, it appears that, in some sectors, the pandemic merely speeded up adoption of emerging alternatives.
For example, just 16.9% of respondents indicated that they had signed up for a grocery delivery such as Shipt, InstaCart or Mercado during the pandemic–a figure that may seem low given that some 60% of consumers admitted to being worried about in-store shopping in an L.E.K. Consulting survey conducted in April of 2020. However, some 57.9% of respondents in the What If Media Group study currently subscribe to a grocery service, even as fears are subsiding. That provides a clear indication that, while the pandemic may have played a role in nudging some consumers to try an alternative, the shift to online delivery services was already well underway.
A similar example can be seen in the three charts below. While almost half of consumers admitted to buying household goods in bulk as a result of shortages at the beginning of the pandemic, 71.9% buy these products in bulk today. With just a third of respondents worried about the threat of future shortages, it again seems that pre-existing consumer behaviors have simply been magnified by recent events, rather than fundamentally altered.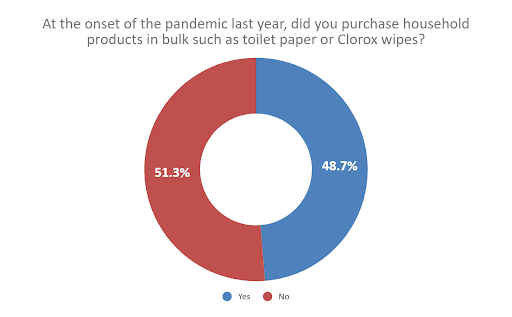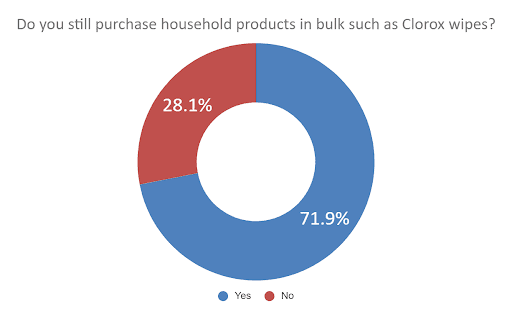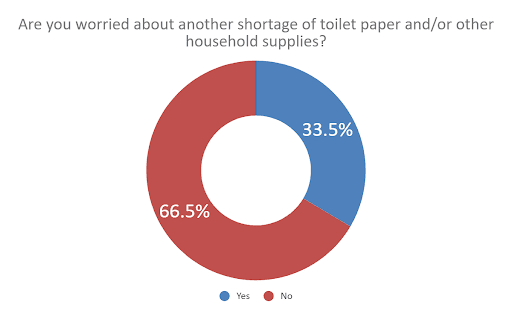 Well-Positioned Winners
Of course, these numbers are not insignificant for the businesses involved: while the pandemic led to "only" 16.7% of consumers signing up for a warehouse store membership with the likes of BJs or Costco, double-digit membership growth would represent a major success for these companies. For comparison, according to Statista data, Costco's membership grew by approximately 5 to 8 percent in each of the years from 2014 to 2020.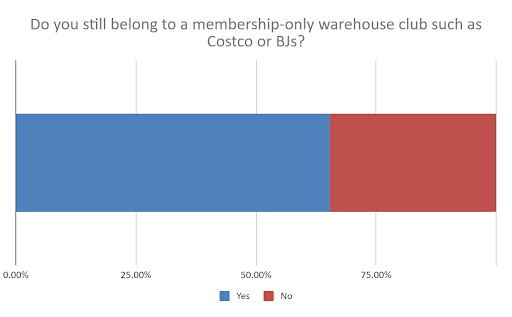 "Even before the pandemic, the biggest question facing brick-and-mortar retailers was how to handle the ever-growing threat of Amazon, and how to better leverage their physical locations as a competitive advantage," says Jordan Cohen, Chief Marketing Officer at What If Media Group. "Aside from digital-first 'D2C' retailers, the brands that have fared best have been those who had already begun solving for that question by embracing new shopping preferences — including curbside pickup and bi-directional online-offline purchases and returns — and welcoming the use of third-party delivery services like InstaCart."
Key Takeaways
For marketers, this data should serve as proof that, while the pandemic represented a black swan event for the global economy, it has not fundamentally altered consumer behaviors, or created new, unknowable paradigms. It also suggests that it has not created a situation where gains or business model innovations necessitated by the pandemic will revert back to a 2019 state of being.
Instead, the top-level data presented here suggest that the pandemic response–from both consumers and the companies that serve them–was a direct outgrowth of existing technologies and trends. As such, the companies that thrive in the near to mid-term future will be the ones who are capable of tapping into these trends and using them to understand their customer and deliver what they need, when they need it.
Methodology 
The What If Media Group survey was conducted online within the United States on March 23, 2021, among 4,624 adults. Respondents were randomly selected and the findings are at a 99% confidence level with a margin of error +/- 2.5%. What If Media Group's proprietary ad-serving technology includes a real-time survey module that was used to facilitate the data collection for this study. Data was weighted to the 2010 US Census.

About What If Media Group
Founded in 2012, What If Media Group is an award-winning performance marketing company that enables the world's leading brands to acquire valuable new customers at scale. By leveraging data-driven engagement and re-engagement strategies across multiple proprietary marketing channels and sophisticated targeting technology, and utilizing insights based on millions of consumer ad interactions each day, What If Media Group delivers the most cost-effective and highest performing marketing campaigns for its clients.