Seinfeld or Schitt's Creek: Favorite Shows Inspire Streaming Subscriptions
In the heated battle for market share among streaming TV consumers, the concept that "content is king" has been making a comeback: surely, the theory goes, the platforms with the best shows – and the newest – will win the subscriber war.
However, new research from What If Media Group shows that, when it comes to making subscription decisions, consumers are more likely to be swayed by the ability to re-watch old favorites than they are with access to fresh content.
In a finding that may well be related to pandemic fatigue and the desire to revisit the familiar in a time of uncertainty, 29.5% of consumers told What If Media Group that they would be willing to sign up to a streaming service just to re-watch a favorite television series – more than would make the decision based on access to a new show (26.5%). And awards are the least favorable predictor of a show's ability to drive signups: only 21.3% of consumers would sign up to a streaming service just to catch the latest Golden Globe or Emmy winners.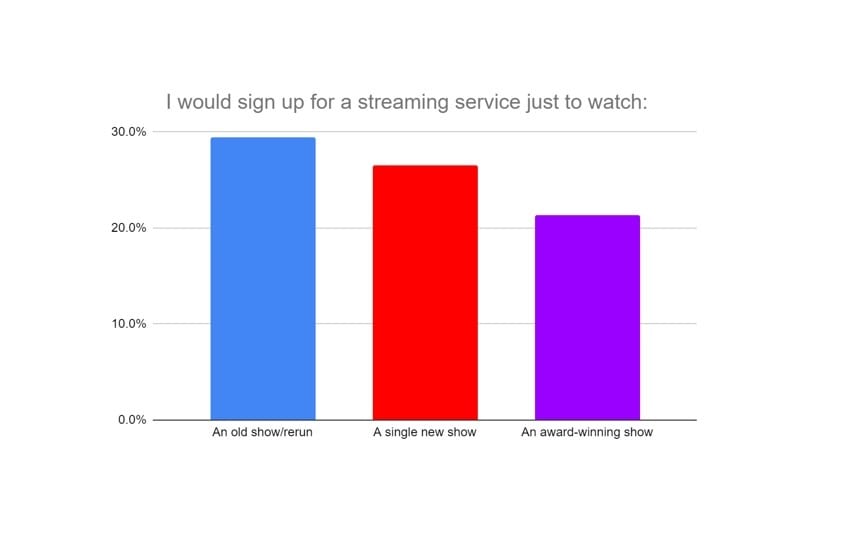 Younger Viewers Want Older Content
In what may come as a bit of a surprise, when it comes to re-watching shows, it is actually younger audiences who are more likely to sign up for a streaming service simply to access an old favorite than older generations. More than 30 percent of viewers in every age category up to 60 would sign up for a service first and foremost to watch syndicated content, a number that tapers off sharply above 60. Those aged 20-29, meanwhile, are the most likely of all, with 38.5% of the age group willing to pay for older content.
"While older viewers grew up with the concept of appointment TV, on-demand content has been the norm for younger generations," said Jordan Cohen, Chief Marketing Officer at What If Media Group. "As such, I would expect to see streaming companies continue to pursue acquisitions of tried-and-true franchises to bolster their appeal to these groups, for example as we've seen with Netflix and its blockbuster acquisition of Seinfeld, which will be a massive flytrap for Gen Xers."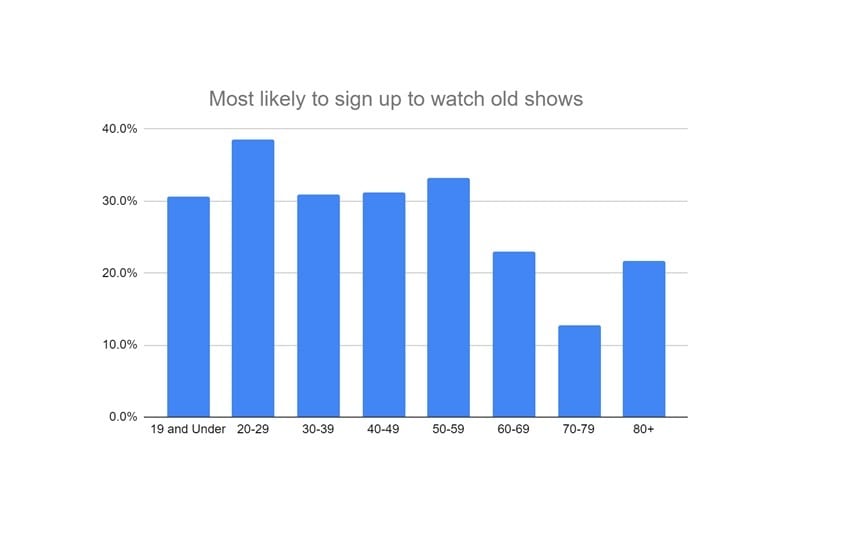 Awards Are Overrated
A corollary to the demand for favorite shows is that awards don't seem to predict which services a customer is likely to sign up for. For example, while it is clear that a must-see show such as HBO's Game of Thrones can drive massive numbers of signups to a platform while it is airing (HBO lost 16% of its subscribers in the month immediately following the GoT series finale), What If Media Group's data suggest that the show's record-setting number of awards can be seen more as a reflection of the qualities that drew subscribers in, rather than the reason for the signups themselves. 
Which Shows Make People Sign Up?
Even among Golden Globe winners, there are major differences in terms of which shows are likely to drive subscriptions among potential viewers. A little over half respondents (50.6%) noted that they would be likely to subscribe to Netflix to watch either prestige drama series The Crown or comedy success Schitt's Creek, compared to 3% of respondents who would sign up for Apple TV just to get access to the highly rated Ted Lasso. However, once again underscoring the importance of viewing these services as content libraries, it's also significant that both The Crown and Schitt's Creek have multiple seasons available to viewers, compared to just a single season to date for Ted Lasso, or miniseries such as The Queen's Gambit, I Know This Much is True, and Small Axe.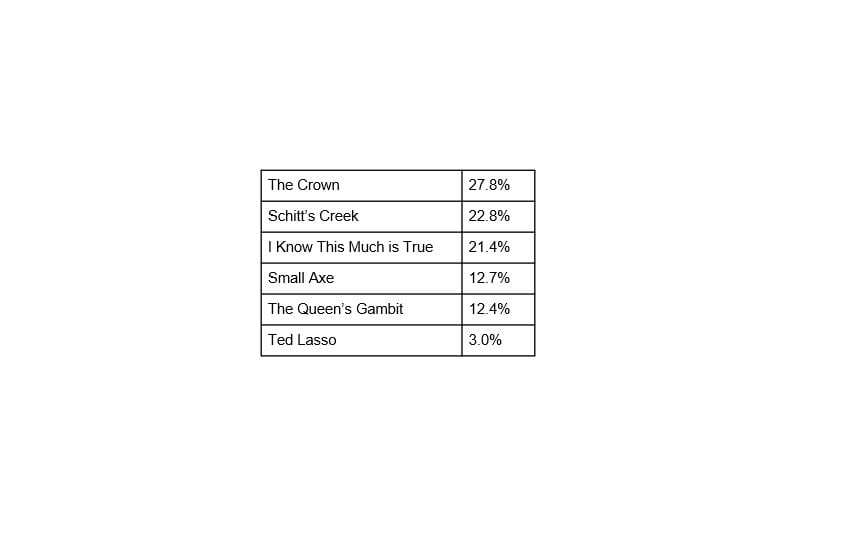 Key Takeaways for Streaming Services Marketers
For marketers of streaming services, these kinds of insights are invaluable for gaining a sense of audience priorities and motivations with a view to creating truly targeted campaigns. 
Knowing a consumer's preferences around re-watching older shows versus new content isn't just critical for driving signup behavior, it can also serve as an indicator of their willingness to take risks and try new products, which in turn can inform tailored messaging that takes these preferences into account when advertising subscriptions.
Additionally, the lack of priority around awards for consumers is a revealing insight that can shape marketing campaigns beyond ads for the shows themselves. In an environment where word of mouth is all-important, evidence of "expert" approval may not be the strongest selling point for many consumers when stacked against the opinions of friends, family and influencers.
Finally, within the programming side of the industry, this kind of data is critical for understanding where to target spend. While Netflix was criticized in some quarters for spending some $500 million in 2019 to acquire the rights to stream Seinfeld, it may well be a valuable tool in attracting subscribers to make the switch from Hulu, which previously held the rights. As such, it may well turn out to be the most important piece of the company's content budget, which was reported to be $16 billion for 2020.
Methodology 
The What If Media Group survey was conducted online within the United States on March 2, 2021, among 2,097 adults. Respondents were randomly selected, and the findings are at a 99% confidence level with margin of error +/- 2.5%. What If Media Group's proprietary ad-serving technology includes a real-time survey module that was used to facilitate the data collection for this study. Data was weighted to the 2010 US Census.
About What If Media Group
Founded in 2012, What If Media Group is an award-winning performance marketing company that enables the world's leading brands to acquire valuable new customers at scale. By leveraging data-driven engagement and re-engagement strategies across multiple proprietary marketing channels and sophisticated targeting technology, and utilizing insights based on millions of consumer ad interactions each day, What If Media Group delivers the most cost-effective and highest performing marketing campaigns for its clients.