NEW YEAR HANGOVER? CONSUMER RESOLUTIONS SUGGEST SLOW RECOVERY IN KEY SECTORS IN 2021
It's no secret that 2020 has not been the best year on record for pretty much all of humanity. With 2021 almost upon us, and a light at the end of the tunnel for the COVID-19 pandemic potentially in sight, resolutions for the year ahead offer more than their typical look at our various desires to improve ourselves by losing weight or finding a new job. New data from What If Media Group, a performance marketing company, also offer clues to the things that we've been missing most during enforced social absence, as well as key insights for retailers and other product and service providers about where we may be headed economically as we head into the new year.
In the clearest sign of the impact of the pandemic, spending more time with family and friends was the top priority for the year ahead selected by 28.3% of Americans in a recent What If Media Group survey on New Year's resolutions. That beat out the perennial goal for most of exercising more and/or losing weight, which is the top priority for some 25.2% of the population. This represents a radical shift compared to year's prior: For example, in a similar survey conducted by Inc magazine, "spending more time with friends in family" was ranked dead last at 13% when it came to 2019's New Year's resolutions.
The degree of pandemic fatigue can also be seen in the least-selected options, with just 11.3% indicating that they still retain the appetite to learn new skills or hobbies, and a mere 14.8% planning to read more in the year ahead. And in bad news for the travel industry, just 12.8% of respondents cited traveling more as their top priority for the year ahead signaling that, while 2021 may be a year of reconnecting with loved ones, it may be some time before non-essential travel returns to pre-pandemic levels.
The silver lining (depending on one looks at it) may be the fewer than 8% who plan on spending more on their home office set-ups, perhaps an indication that they expect to (or hope to) return to physical office locations as soon as health conditions permit.
Is Fitness Going DIY?
While fitness wasn't the top priority for most heading into 2021, it remains high on the list of most Americans' end-of-year goals: 45% of all respondents indicating that they planned to spend more time on their fitness next year. However, in a sign of the new reality for the fitness industry, just 25.4% indicated that they were planning to spend more money on fitness in the new year. In a sign that the gym industry may struggle to recover, just 20.1% indicated that they planned to spend more on memberships, exercise equipment, mobile apps, or programs in the new year—an indication that DIY habits developed out of necessity during lockdowns and/or fiscal tightening may be here to stay for many.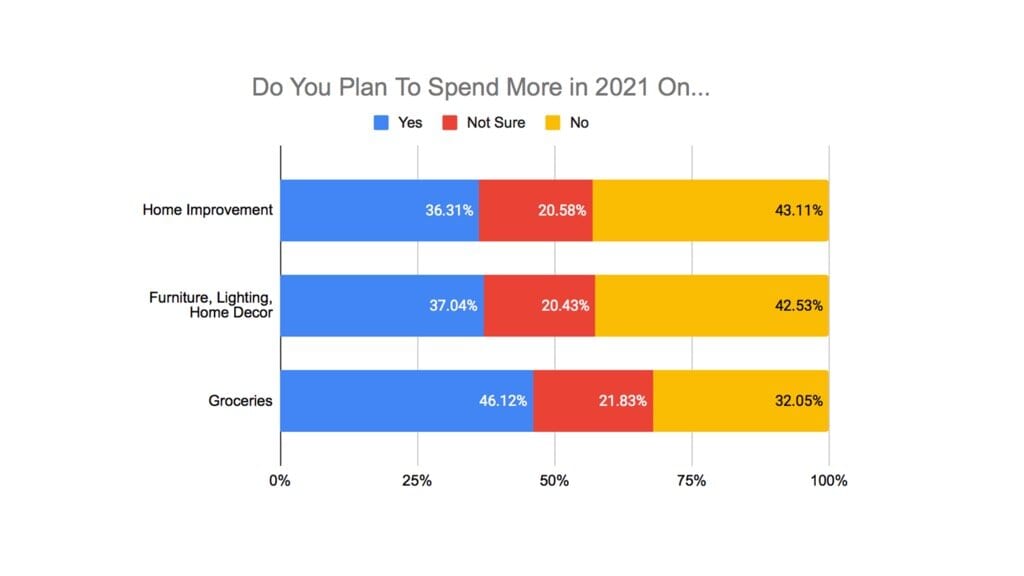 Lingering Effects
In yet another sign of the pandemic's lingering effects on the economy, 51.2% of respondents indicated that they had a New Year's resolution to save more money in 2021. That likely translates to lower spending in areas like home improvement, where just 36.3% of respondents indicate that they were planning to spend more in the coming year than in 2020, compared to 43.1% who are not planning to spend more. Likewise, 42.5% are not planning to spend more on furniture, lighting or home decor in the coming year, compared to 37% who anticipate increased spending.
Indeed, the only category where more respondents indicated a likely increase in spending over 2020 was on grocery bills—a sign that consumers are expecting some combination of higher prices, yet more time spent at home for work and school, and fewer meals eaten outside of the house. As a result, 46.1% of consumers anticipate spending more on groceries in 2021, compared to 32.1% who do not.
Finally, underlining the woes for the travel industry, just 27.5% of consumers plan to travel outside of their home towns more often in 2021 than they did in 2020—a year in which travel restrictions led to a 39% drop in travel-related spending over Thanksgiving, according to ustravel.org, and a 65% in international travel, per the UN. With 42.5% of consumers either planning to travel less than they did in 2020 or not at all, a travel-related rebound may be some way off, contributing to further problems for sectors including airlines, hotels, auto rentals, and more.
 Methodology
The What If Media Group survey was conducted online within the United States from December 7 – 8, 2020, among 18,048 adults. Respondents were randomly selected and the findings are at a 99% confidence level with a margin of error +/- 2.5%. What If Media Group's proprietary ad-serving technology includes a real-time survey module that was used to facilitate the data collection for this study. Data was weighted to the 2010 US Census.
About What If Media Group
Founded in 2012, What If Media Group is an award-winning performance marketing company that enables the world's leading brands to acquire valuable new customers at scale. By leveraging data-driven engagement and re-engagement strategies across multiple proprietary marketing channels and sophisticated targeting technology, and utilizing insights based on millions of consumer ad interactions each day, What If Media Group delivers the most cost-effective and highest performing marketing campaigns for its clients. Headquartered in Fort Lee, New Jersey, What If Media Group is a recipient of Crain's 2020 Fast 50 and is a member of the Inc 5000 list of the fastest-growing private companies in America.