HALLOWEEN 2020: A GRAVE SITUATION FOR RETAILERS
Halloween is shaping up to be an especially scary time for anyone who loves celebrating the festive holiday or relies on it for income, according to the most recent consumer research from What If Media Group, a performance-marketing company.
The survey finds that concerns related to the relentless pandemic are impacting Halloween celebrations in two key ways: (1) fear over spreading COVID-19 is dissuading gatherings and opportunities for close contact, such as trick-or-treating; and (2) the financial impact of pandemic-related job losses is driving down consumer spending on items such as costumes, party supplies, and even candy.
Consider these spooky findings on trick-or-treating plans
Two-thirds (66.2%) of respondents with children in the home do not plan on trick-or-treating this year.

One in four parents (25.2%) still plan on taking their children trick-or-treating this year.

Just 8.6% percent of parents with children in the home indicated that they typically did not go trick-or-treating.
On the other side of the door, meanwhile, Americans are also planning on receiving significantly fewer trick-or-treaters in 2020:
Only one-third of households are intending to receive trick-or-treaters this year. 

38.5% of respondents typically don't receive them.

Despite receiving trick-or-treaters in the past, more than a quarter (28.1%) are abstaining.
Considering the above stats, Halloween 2020 will be a major aberration from traditions, as well as a grave area of concern for businesses that rely on trick-or-treating, part of a season worth an estimated $8 to $9 billion in annual spending in a typical year. 
Industry Impact: Costumes and Candy
One industry that is surely feeling the pinch from straitened circumstances this year is the costume sector. In the What If Media Group survey, more than 2/3rds (71%) of consumers nationwide indicated they were not planning on buying a new costume, with 49% of those who said they weren't indicating that financial hardship this year is the key reason why they won't be.
Across the country, Rhode Island and Mississippi are the two hardest-hit states when it comes to purchase intent for costumes, closely followed by Connecticut, Montana and Hawaii. 
The data also indicate differences across residential areas: while 74.5% of suburbanites in the survey indicated they are planning to cut back, those in urban (80.2%) and rural (82.6%) areas are even less likely to be spending on new costumes this year.
Top 10 States Where Financial Hardship is Suppressing Costume Sales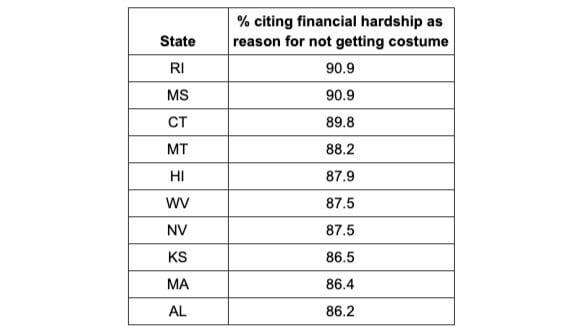 Kids with a sweet tooth are also likely to be left disappointed this year: 44.5% of respondents indicated they are planning to buy less Halloween candy than last year, with just 13.8% predicting they will buy more.
And, that pattern also holds for decorations: nearly half (48.5%) of respondents plan on buying fewer items this year, with only 12.6% buying more.
With all of that data in mind, it's unsurprising that Halloween parties also seem to be disappearing: while 52.1% of respondents indicated that they don't typically host Halloween parties, a further 33.1% won't be hosting this year despite having done so in the past. That leaves just 9.7% of respondents who are planning on hosting an in-person event, while 4.7% are planning some kind of virtual Halloween celebration.
Top 10 States for Trick-or-Treaters
While it may be a difficult year, there are definitely some Halloween die-hards out there–with residents of South Dakota emerging as the passionate trick-or-treaters in the nation. According to the What If Media Group survey, fully 35% of respondents from the Mt. Rushmore State indicated they were intending on taking their kids out to trick-or-treat this Halloween, with Oklahoma, Mississippi, Wyoming and Oregon all close behind.
Top 10 States by Trick-or-Treat Intention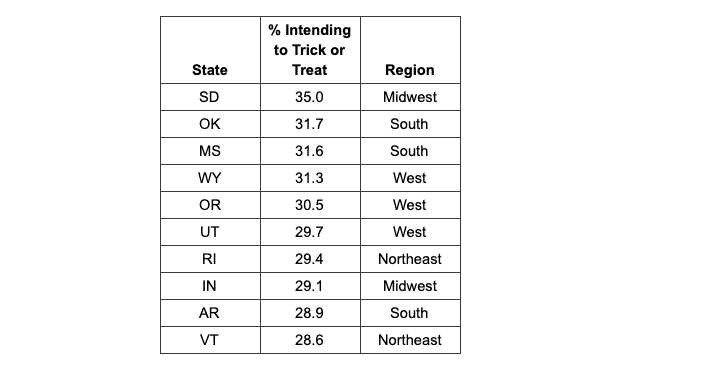 Around the country, those living in the Northeast are least likely to be heading out this year: just 20.5% of respondents in the region are planning to trick or treat with their children, compared to approximately 25% of people elsewhere in the nation.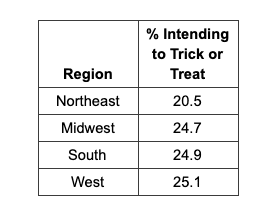 Methodology
The What If Media Group survey was conducted online within the United States from September 30 – October 1, 2020, among 16,053 adults. Respondents were randomly selected and the findings are at a 99% confidence level with a margin of error +/- 2.5%. What If Media Group's proprietary ad-serving technology includes a real-time survey module that was used to facilitate the data collection for this study. Data was weighted to the 2010 US Census.
About What If Media Group
Founded in 2012, What If Media Group is an award-winning performance marketing company that enables the world's leading brands to acquire valuable new customers at scale. By leveraging data-driven engagement and re-engagement strategies across multiple proprietary marketing channels and sophisticated targeting technology, and utilizing insights based on millions of consumer ad interactions each day, What If Media Group delivers the most cost-effective and highest performing marketing campaigns for its clients. Headquartered in Fort Lee, New Jersey, What If Media Group is a recipient of Crain's 2019 Fast 50 and is a member of the Inc 5000 list of the fastest-growing private companies in America.