FEAR AND LOATHING OF POLITICAL LAWN SIGNS
With just over a month remaining until the Presidential election, and early voting underway in many states, gone are the days of the race being followed only by political reporters and news junkies. As the 2016 race demonstrated, the final 30 days can make or break a campaign, with voter enthusiasm being one of the key factors that can decide a contest–and define the future of the nation–at such a late stage.
When it comes to enthusiasm, one particularly powerful view into a voter's level of support is their willingness to put their political beliefs and candidate support on public display in the form of bumper stickers, yard signs, window signs, and other campaign collateral. 
In a year that will forever be marked by a global pandemic, nationwide anti-racism protests (and counter-protests), and arguably the most extreme level of divisiveness that the country has ever seen, What If Media Group conducted research this week to find out what percentage of likely voters are PDA'ing their favored candidate — and if they aren't, why not.
According to the survey, President Donald Trump has a wide advantage when it comes to campaign signage: 30% of his supporters responded that they are currently displaying a Trump sign on their lawn, window, car, or elsewhere, compared to just 20% of Democratic presidential nominee Joe Biden's supporters.
This finding is consistent with the enthusiasm gap first reported in our recent publication, "Reality Check: Election 2020", which indicated stronger levels of enthusiasm from President Trump's supporters for the prospect of voting for their candidate than among Biden's supporters for their preferred candidate.
However, the relatively low levels of people overall who are willing to make a public display of support on either side cannot be explained entirely by a lack of enthusiasm in what is surely one of the most contentious presidential races in recent memory.
Keeping To Themselves
Despite their differing political views, Trump and Biden supporters have almost identical concerns over displaying signage. The majority of voters in both groups–approximately 68% in both cases– indicated that they never promote their political views, suggesting that the desire for privacy is a strong motivator across the political spectrum.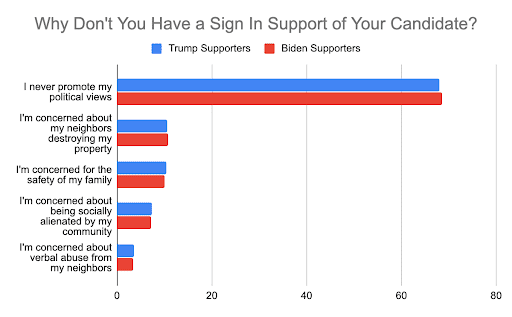 The desire for privacy aside, the survey data also suggests why some voters may be deterred from sharing their beliefs publicly: Almost one-third of responses from supporters of each candidate indicated that the threat of violence, property damage, social alienation, or verbal abuse was the key reason for their not displaying any campaign signage.
As a snapshot into the psyche of likely voters this November, the fact that approximately 10% of partisans on either side believe that violence may be a potential outcome of displaying political signage–and a further 10% believing that it may lead to property damage–is a disheartening indicator of the extremity of the schism in America.
Social Stigma
One final point of note from the data is that the concept of social stigma does not appear to be a major factor in voter considerations over signage. While that is at least partly attributable to higher-priority concerns over potential physical and property damage, it's also worth noting that the trend may partially be due to the geographic clustering of like-minded people. In other words, the states where supporters displayed the highest levels of reluctance based on the risk of alienation were in places where they were most likely to be in the extreme minority. 
For example, 13.1% of likely Trump voters in Democratic-stronghold California indicated the prospect of social alienation as their main reason for not displaying signage — the highest proportion anywhere in the country, and one of only two states where that concern outstripped violence or property damage as dissuading factors.
Among Biden supporters, the fear of social alienation was highest in solidly Red Texas, with 11.75% of the former VP's likely voters naming it as their key concern–again, ranking the concern higher than threats to safety and property. 
Concerns about safety meanwhile were most pronounced amongst Biden supporters in Georgia (14.1%) and Trump supporters in Virginia (14.6%). In left-leaning Illinois, 20.2% of Trump supporters expressed concern over property damage as the number one reason for not displaying signs after simply never promoting their political views.
"As the election draws ever nearer, pundits and pollsters will continue to look for any evidence they can find to try to get a more accurate read on the likely outcome," said Josh Gillon, CEO of What If Media Group. "The results of our most recent poll suggest that the signs they aren't traditionally used to looking for–quite literally–may provide a powerful glimpse into the current dynamics of the race."
For more information, or to request the full dataset, email us at [email protected].
Methodology
The survey was conducted online within the United States from September 21-243, 2020, among 14,778 adults. Respondents were randomly selected and the findings are at a 99% confidence level with a margin of error +/- 2.5%. What If Media Group's proprietary ad-serving technology includes a real-time survey module that was used to facilitate the data collection for this study. Data was weighted to the 2010 US Census.
About What If Media Group
Founded in 2012, What If Media Group is an award-winning performance marketing company that enables the world's leading brands to acquire valuable new customers at scale. By leveraging data-driven engagement and re-engagement strategies across multiple proprietary marketing channels and sophisticated targeting technology, and utilizing insights based on millions of consumer ad interactions each day, What If Media Group delivers the most cost-effective and highest performing marketing campaigns for its clients. Headquartered in Fort Lee, New Jersey, What If is a recipient of Crain's 2019 Fast 50 and is a member of the Inc. 5000 list of the fastest-growing private companies in America.