COVID-19 SET TO DRIVE RECORD PET SALES AND ADOPTION THIS HOLIDAY SEASON
With COVID-19 taking its toll on both people's ability to travel and their wallets, the 2020 holiday season is shaping up to be a challenging time for retailers in most categories. However, with more people staying home and isolated from friends and families – and with no end in clear sight – a new study from performance marketing firm What If Media Group reveals what is likely to be one very specific (and long-lasting) gift category that is likely to soar despite the raging pandemic: pets.
According to its recent survey, What If Media Group found a large swath of Americans planning to get a pet this year, specifically for the holiday season. Asked in October whether they would purchase or adopt one, one-third of consumers indicated that they had either already bought or adopted a pet (23.4%) or were considering doing so (10.4%). And the link to COVID-19 is undeniable: 61.4% indicated that the pandemic had been somewhat or very influential in their decision.
That's not just good news for those seeking to stave off lockdown blues: according to the American Pet Products Association, the U.S. pet industry is worth an estimated $99 billion in 2020, up from $95.7 billion in 2019. As such, breeders, pet product retailers, pet insurers, and providers of veterinary services can all look forward to a continuation of a trend that began with record levels of adoption as the pandemic took hold in the first quarter of 2020.
The Award for Man's Best Friend Goes To…
When it comes to pet popularity, there's no contest: at a time when people are seeking an antidote to social isolation, it may come as no surprise that "man's best friend" – dogs – are still the top choice for 41.6% of likely pet-getters this holiday season. While cats are the second-most-considered pet, they're the first choice for far fewer (23.8%) consumers. However, when it comes to their ability to keep people company, no individual species fared worse than fish, which drew just 5.4% of consumers.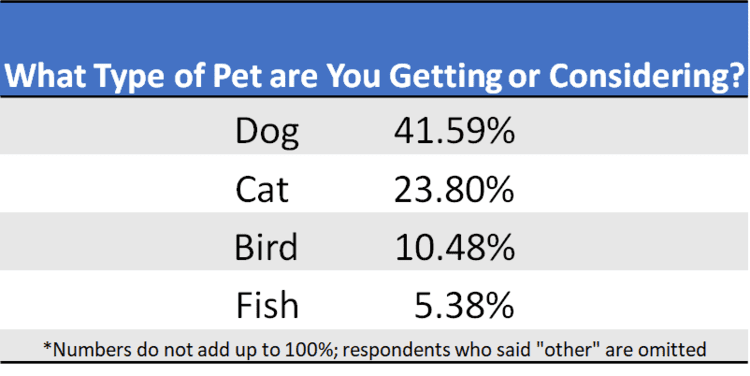 Evolving Preferences in Pet Ownership
While birds and fish may not be known to exude the infamously strong personalities of so many beloved dogs and cats, the study did show these two, less commonly owned pets are actually poised to make the largest percentage gains in ownership this holiday season – especially birds.
Compared to current ownership, the What If Media Group study forecasts that birds will see an 111.1% spike in ownership, with fish increasing by 57.4%, compared to dogs which will make the smallest percentage gain in ownership at 8.2% (of course, this is still an impressive gain given how many Americans already own dogs). While we didn't ask respondents why their preferences for various types of pets has expanded, the data highlight an evolution in American pet ownership, a new open-mindedness to other types of pets, and that all sorts of animals – whether furry, scaly, or feathered –a are enjoying a silver lining from Covid-19, with more being welcomed into our homes as the pandemic rages on.

Methodology
The What If Media Group survey was conducted online within the United States from October 14 to October 19, 2020, among 22,915 adults. Respondents were randomly selected, and the findings are at a 99% confidence level with a margin of error +/- 2.5%. What If Media Group's proprietary ad-serving technology includes a real-time survey module that was used to facilitate the data collection for this study. Data was weighted to the 2010 US Census.
About What If Media Group
Founded in 2012, What If Media Group is an award-winning performance marketing company that enables the world's leading brands to acquire valuable new customers at scale. By leveraging data-driven engagement and re-engagement strategies across multiple proprietary marketing channels and sophisticated targeting technology, and utilizing insights based on millions of consumer ad interactions each day, What If Media Group delivers the most cost-effective and highest performing marketing campaigns for its clients. Headquartered in Fort Lee, New Jersey, What If Media Group is a recipient of Crain's 2019 Fast 50 and is a member of the Inc. 5000 list of the fastest-growing private companies in America.