Cashless Future: Convenience. Exposure. Big Brother.
As the use of electronic payments becomes more prevalent, many people wonder if we are headed toward a cashless society.
While it may seem like cash is on its way out, recent data suggests this is not necessarily the case.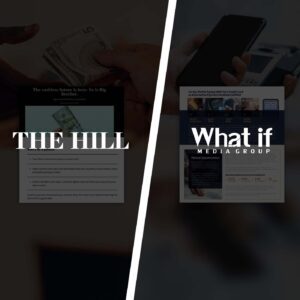 According to an article in The Hill, two-fifths of Americans used no cash in 2022. Many businesses have begun to favor cashless transactions due to their convenience, security, and hygiene. However, the article also points out that cashless transactions can be easily tracked and may not be accessible to specific population segments, such as the "unbanked" who do not have access to credit or debit cards. There is a mention of the role that the COVID-19 pandemic has played in the shift away from cash. Many people have stopped carrying cash due to concerns about the transmission of the virus, and as a result, there has been a national coin shortage. 
On the other hand, a survey by What If Media Group found that out of 226,833 respondents, over 60% prefer to pay with cash rather than credit or debit cards or alternative payment methods like PayPal or Venmo. The survey suggests that this preference for cash may be due to concerns about taking on debt or uncertainty about the economy and notes that credit cards can offer benefits like loyalty points, insurance coverage, and buyer protection. However, the article also acknowledges that credit cards can be a valuable tool for building credit and making larger purchases and suggests that credit card issuers may need to adapt their marketing strategies to appeal to consumers who prefer to use cash.
While it seems clear that the trend toward cashless transactions is continuing, these two articles demonstrate that cash is still a popular payment option for many people. Therefore, to effectively meet the needs of all consumers, credit card issuers and businesses may need to consider the preferences of both cash and non-cash users.
About What If Media Group
Founded in 2012, What If Media Group is an award-winning, performance marketing company that enables the world's leading brands to acquire valuable new customers at scale by leveraging the company's first-party, data-driven engagement and re-engagement strategies from millions of consumer's ad interactions each day across multiple proprietary marketing channels. Headquartered in Fort Lee, New Jersey, What If Media Group has been on the Inc. 5000 list of the fastest-growing private companies in America for six years in a row as well as the recipient of multiple Crain's Fast 50 awards.