CAN DISNEY+ AND OTHERS SHATTER THE NETFLIX-AMAZON GLASS CEILING?
With much of the world facing at least another several months of pandemic-restricted entertainment options, the demand for streaming TV services seems set to continue to grow throughout 2021. And, with a year of couch surfing and binge-watching already behind them, many consumers will be seeking fresh content options this year, opening up major opportunities for challengers to the Netflix-Amazon duopoly that currently rules the streaming landscape.
A recent survey from What If Media Group found that the majority of second-tier players in the streaming market–a category that includes Hulu, Disney+ and HBO, among others–had between 12 and 20 percent market penetration, compared to 43% for Netflix, 40.1% for Amazon Prime, and 38.3% for YouTube TV.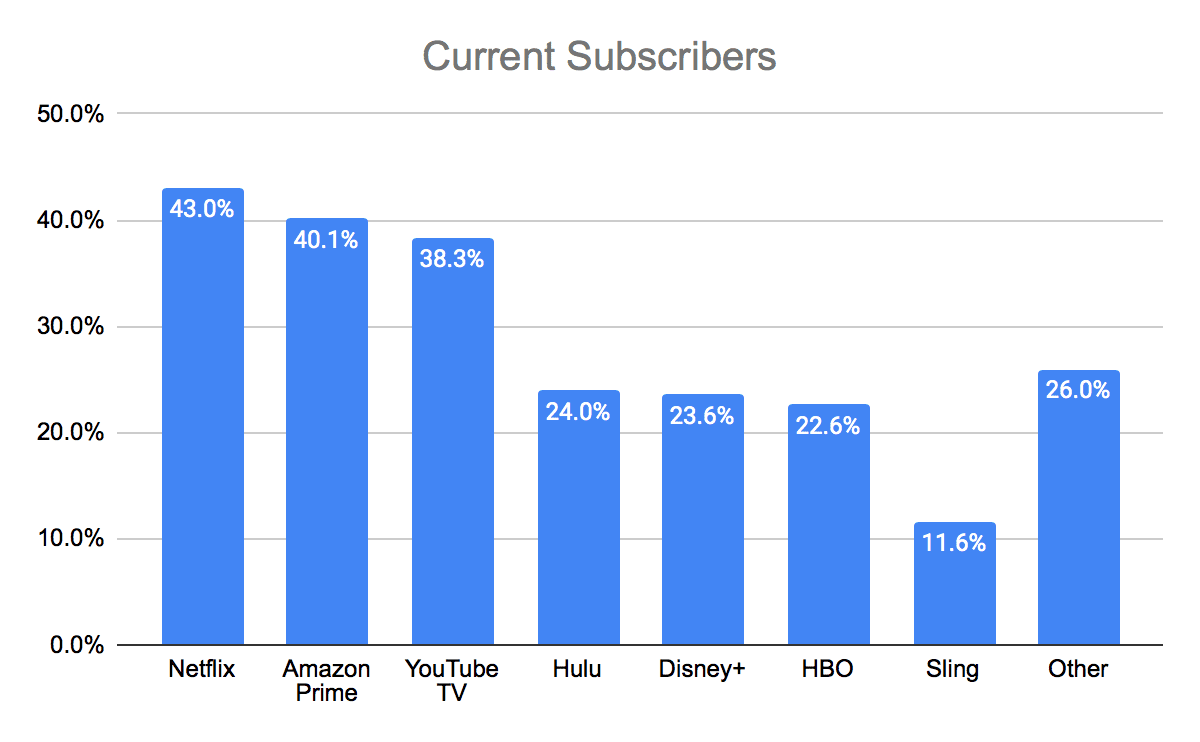 Of course, one of the chief obstacles standing in the way of any service gaining share is cost: a recent report from What If Media Group found that 77.6% of consumers have a maximum ceiling of just $10 for a single streaming service, with a similar proportion— 76.5%—indicating that their total budget for streaming services comes in at $30 or less.
Based on that finding, the good news is that there is plenty of room for growth for everyone in the market. For example, even in a scenario where Netflix and Amazon Prime (both priced at $8.99/month for basic video subscriptions) achieved 100% market share, consumers would still have room to add at least one more service. In that context, the meat in the recent announcement of the first-ever price hike for Disney+ is not in the extra dollar per month that Disney is charging for its standalone service (prices are rising to $7.99/month), but the fact that consumers can bundle two additional services—ESPN+ and Hulu—for just $13.99 per month. 
"For today's value-focused consumers, the discounted bundled offering from Disney+ not only fits the ideal pricing model identified by our survey data but seems to be specifically designed to gain share in a landscape where some of the more established players are seen as a given," said Jordan Cohen, Chief Marketing Officer, What If Media Group.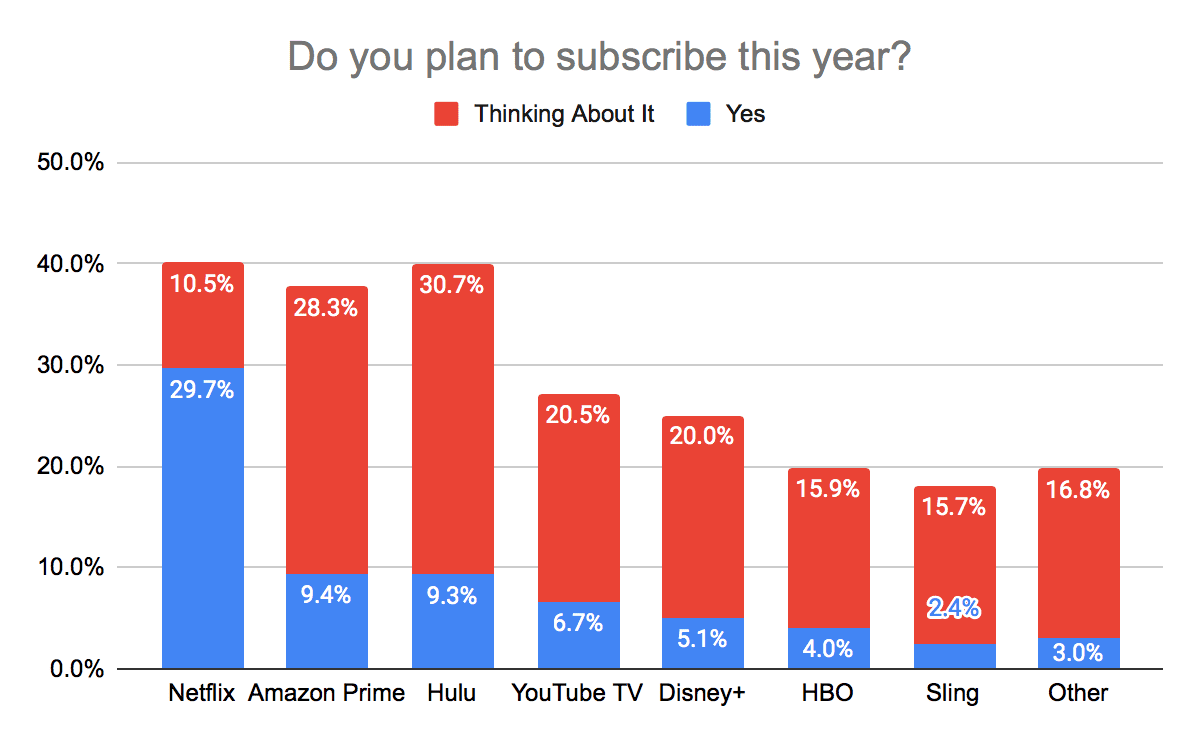 The relative strength of each company's offering can also be seen in the levels of intent from consumers around adding their services. While Netflix looks set to make additional massive gains in terms of market penetration in 2021, consumers are clearly interested in both Amazon Prime and Hulu—which again speaks to the value of bundling services (with Amazon potentially capturing ecommerce customers at the same time).
By contrast, HBO—the longest-serving "add-on" option in the bunch, dating back to its days as a cable-only outfit—may be in danger of being left behind in terms of perceived value for money (or, conversely, is positioning itself solely to capture more well heeled audiences, at the risk of losing "Main Street" consumers). At $14.99 per month, it's the highest-priced stand-alone service in the bunch, and doesn't offer the ancillary benefits seen with some of its competitors.
"With the market for these services becoming an every-more-intense battlefield, it's clear that providers need to be smart and aggressive to gain market share," said Cohen. "The ability to effectively compete obviously starts with a clear sense of consumer preferences around content and pricing, but goes far beyond simply assessing price sensitivity on a single offering. Knowing when to try to convince a consumer to switch services versus adding an additional one, for example, can lead to vastly different outputs from marketing—and vastly different results."
To read the full report from What If Media Group, click here.
Methodology 
The What If Media Group survey was conducted online within the United States from January 18 – 19, 2021, among 10,526 adults. Respondents were randomly selected and the findings are at a 99% confidence level with margin of error +/- 2.5%. What If Media Group's proprietary ad-serving technology includes a real-time survey module that was used to facilitate the data collection for this study. Data was weighted to the 2010 US Census.
About What If Media Group
Founded in 2012, What If Media Group is an award-winning performance marketing company that enables the world's leading brands to acquire valuable new customers at scale. By leveraging data-driven engagement and re-engagement strategies across multiple proprietary marketing channels and sophisticated targeting technology, and utilizing insights based on millions of consumer ad interactions each day, What If Media Group delivers the most cost-effective and highest performing marketing campaigns for its clients.