"ARE YOU BETTER OFF?" COULD BE THE DEFINING QUESTION OF THE 2020 ELECTION
In electoral terms, there are few questions that distill a politician's hopes more clearly than "Are you better off financially today than you were four years ago?"
As an incumbent, a higher percentage of people responding negatively is a bright red warning sign that your job may be in jeopardy; as a challenger, the same data represents a major opportunity to offer voters a clear alternative.
New research from What If Media Group, a performance-marketing company, indicates that the question may once again play an important role in the current election: nationally, 35.7% of people say that they are worse off than 4 years ago, with just 29% claiming to be better off than before the Trump administration got underway.
Interestingly, responses to the question seem to skew toward political preferences: 46.5% of Republican voters claim to better off today than in 2016, compared to just 21.1% of Democrats—a gap of more than 25 points. Similarly, 46.3% of Democrats claim to be worse off, compared to 23.8% of Republicans, suggesting either that financial progress is more closely linked to party affiliation than suspected, or (more likely) that political leanings tend to color responses even on potentially objective benchmarks of success. 
While that may not be surprising, the responses of non-partisan voters should perhaps give both campaigns pause for thought: 75% of Independents and 78% of Undecided voters claim to be no better off—and many worse off—than in 2016. As perhaps the only two groups of persuadable voters left at this late stage in the campaign, those responses offer an insight into the size of the challenge facing the Trump campaign to win voters over, and a potent area for the Biden campaign to explore with messaging.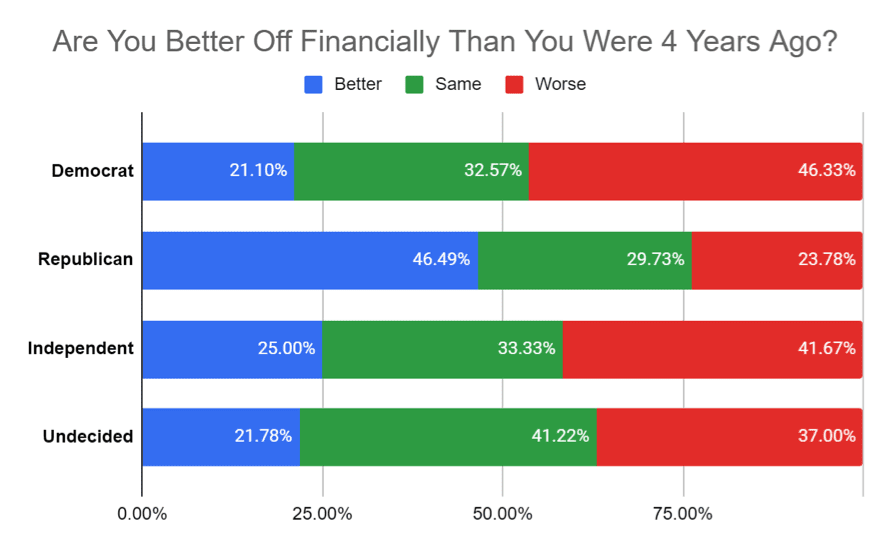 The 1-Year Picture
Of course, politics doesn't happen in a vacuum: as the Covid-19 pandemic has demonstrated, years of progress can be erased in a matter of months. With that in mind, the What If Media Group survey also asked participants to rate whether they were better off compared to just one year ago. The results of that question help to illustrate the economic effect of the pandemic—and place the potential outcome of the election in even sharper focus.
Across the board, respondents reported being worse off financially, with just 21.8% reporting an improvement in the position (seven points lower than over four years) and 39.7% reporting being worse off—4 percent more than reported being worse off since 2016.
Interestingly, the partisan divide is significantly less pronounced when looking back over the past year period: the gap between Republicans and Democrats claiming to be better off has shrunk to just over 6.5%, compared to 25% looking back over the past four years.
Claims at the other end of the scale have leveled out too, with 42.5% of Democrats and 38.77% of Republicans claiming to be worse off now than one year ago. That 3.7% gap is significantly lower than the 23% difference between the two groups when asked to look back to 2016.
Meanwhile, Independents and Undecideds are more likely to report being worse off over the past year than people who identify with either of the major parties and are also significantly more likely to report being worse off over the past year than over the past four.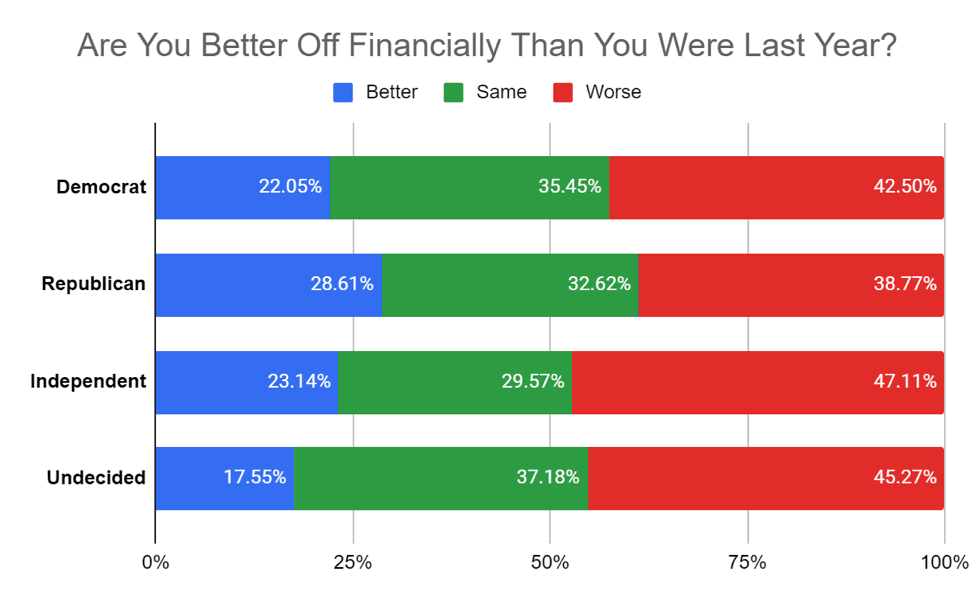 Timeframe is Everything
Taken together, the differences over the two timeframes offer an important lesson about weighing recent experience against the perceived wisdom of the four-year political cycle. While the latter undoubtedly offers a useful way to frame an incumbent's performance over their entire term, shorter time horizons can also present heightened opportunities or vulnerabilities for candidates.
In this case, it is clear that the Biden campaign would be wise to continue stressing shorter-term economic conditions, as recent experiences may lead to heightened opportunities to convert non-base voters to their cause.
On the flip side, the Trump campaign's best opportunity to keep its own base intact may well be to continue citing longer-term performance—or to change the subject to a different conversation altogether.
Methodology
The What If Media Group survey was conducted online within the United States from 10/21 to 10/22, 2020, among 11,183 adults. Respondents were randomly selected and the findings are at a 99% confidence level with a margin of error +/- 2.5%. What If Media Group's proprietary ad-serving technology includes a real-time survey module that was used to facilitate the data collection for this study. Data was weighted to the 2010 US Census.
About What If Media Group
Founded in 2012, What If Media Group is an award-winning performance marketing company that enables the world's leading brands to acquire valuable new customers at scale. By leveraging data-driven engagement and re-engagement strategies across multiple proprietary marketing channels and sophisticated targeting technology, and utilizing insights based on millions of consumer ad interactions each day, What If Media Group delivers the most cost-effective and highest performing marketing campaigns for its clients. Headquartered in Fort Lee, New Jersey, What If Media Group is a recipient of Crain's 2019 Fast 50 and is a member of the Inc. 5000 list of the fastest-growing private companies in America.